Company
HISTORY

1952

On 15.03.1952 the Heinz Huber Spedition is founded in the Lucile-Grahn-Straße 38 in Munich by Heinz Huber.

1956

In this year, Heinz Huber Spedition handles overseas transports for the first time.

1962

In order to meet the demand for more space, Heinz Huber moves with his company to the Knorrstraße 135 in Munich. The new warehousing space now encompasses 2.000 square meters.

1967

First groupage transports are being handled via railroad to the United Kingdom.

1985

The first combined transport is conducted. Here, freight containers are transported on both roads and railroads.

1995

The Heinz Huber Spedition co-founds the association ONLINE-Systemlogistik.

1999

Transitionally, the company operates from the Gaussstraße 10 in Unterföhring.

2000

Additional need for storage space leads to the move of the company to the newly built, company-owned headquarters in Schweitenkirchen near Munich. The warehousing space now comprises 4.000 square meters.

2002

In this year, the second logistics warehouse is taken into operation. Additional 4.000 square meters of storage space can be used for flexibility in the daily business.

2013

The high turnover leads to the implementation of a sole handling hall. The new hall has a storage capacity of 3000 square meters, so that the total warehouse capacity is now 11.000 square meters.
ONLINE SYSTEMLOGISTIK

Heinz Huber Internationale Spedition is a co-founding member of "Online Systemlogistik", an association of 78 medium-sized and owner-managed logistics companies with a total of 6.200 employees and 1.690 vehicles. Through this partnership, Heinz Huber Internationale Spedition can guarantee Piece good distribution and procurement within 24 - 48 hours everywhere in Germany with an area coverage of 100%. Upon request, deliveries on Saturdays can also be scheduled. As partner and multiply awarded, leading logistics company, the Heinz Huber Spedition can offer the following specialty services in cooperation with the Systemlogistik Online.

• Cash on delivery shipments • Transportation of hazardous goods • Fixed deadline deliveries • General cargo distribution within 24 / 48 hours • Europe-wide coverage • International cross-border tracking and tracing

• Guaranteed overnight delivery within Germany • Delivery the following day within the 24-hour zone • Cash on delivery shipments • Transportation of hazardous goods • Fixed deadline deliveries • Comprehensive coverage in Europe • Europe-wide tracking and tracing

• ONLINE Express Cargo - 08:00, 10.00 and 12.00 delivery • Saturday delivery by 12.00 hours at the latest • Afternoon deliveries from 16.00 to 24.00 hours • Transportation of hazardous goods • Cash on delivery shipments • Tracking & tracing - a web-based facility to keep you up-to-date with the progress of your shipment!

• Reliable procurement logistics to match agreed delivery times • The effective integration of all participants in the chain: • customers | deliverers | system partners • A premium service for procurement logistics Europe-wide

• Daily, Europe-wide deliveries to the following countries (among others): Austria, Belgium, Bulgaria, Czech Republic, Denmark, Estonia, France, Ireland, Italy, Latvia, Lithuania, Luxembourg, Netherlands, Poland, Romania, Slovakia, Spain, Switzerland, UK

We are proud to always rank among the leaders in the yearly audits of our cooperation Online Systemlogistik as well as to continually improve in the internal rankings. In 2015 we reached the first place with a score of 99,92%, which, at the same time, is the best audit result of the association to date. This continuing high quality serves as the basis for stable and long-term business relationships.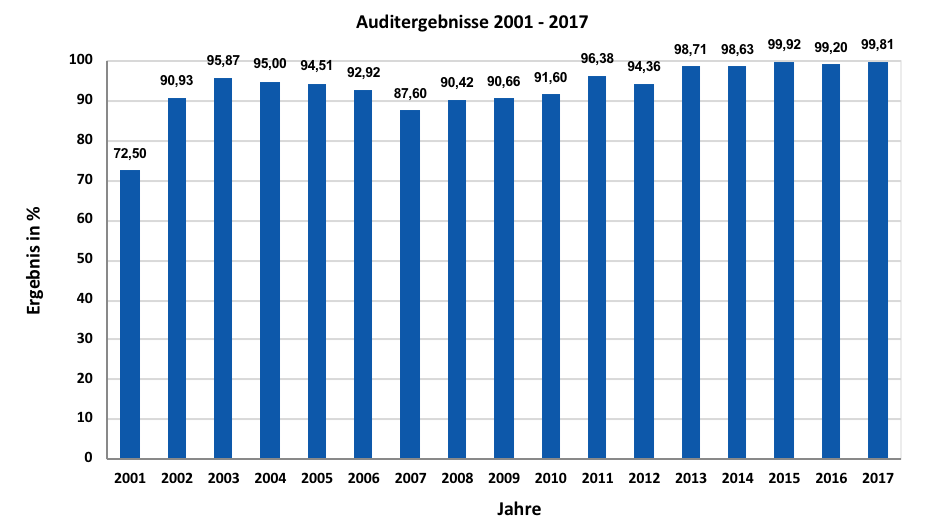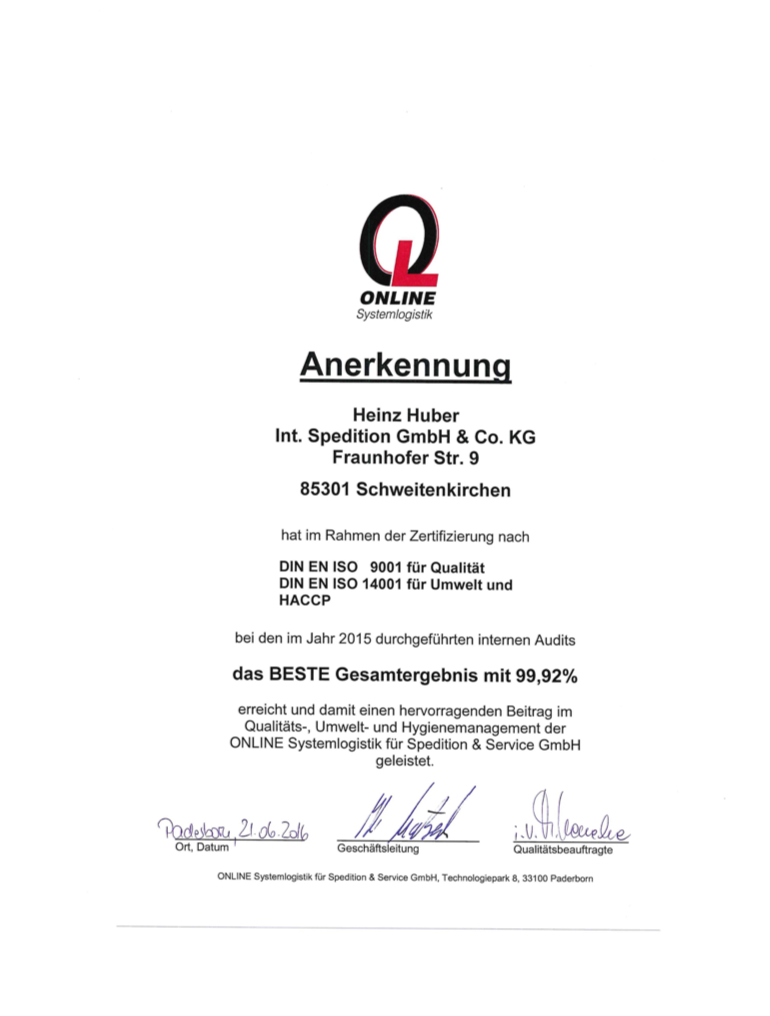 [slide-anything id='178']
CERTIFICATES
Within the Heinz Huber Spedition, a firmly fixed quality- and eco-management-system ensures highest standards in the logistics field. These standards are regularly confirmed by independent Dekra-studies with the certificates ISO 9001 for quality management and ISO 14001 for environmental management. In addition, we are certified for the strict HACCP-hygiene-control-standards. Through the measurements of our DIN EN 16258 certification, we can calculate our emissions of greenhouse-gases per shipment. The goal of this standard for green logistics is to methodically calculate the emission of climate-damaging gases per logistics service and compare them. We can therefore continually work on reducing our CO2-emissions and improve the climate-neutral energy generation through our photovoltaic power plant.